TempElert Standard Edition

Version 2.6 of our most popular program adds support for Kelvin, U model (enhanced range) monitors, and now DIALUP VOICE ALERTS via an optional hardware voice dialer. It also allows probes to be disabled and to have longer probe names.
The latest version of our software features an intuitive graphical interface with industrial style flag annunciators for "at a glance" status checks. Supports Models E4, U4 and U16, plus the low cost Model F Serial port version too! TempElert will also report switch and relay status from burglar alarms and limit switches. Includes settable limits, automated logging, and automatic email and pager alerts.
Plus we now have support for Windows Server 2003/2008, and a new photo realistic on-screen thermometer.
A command line switch was also added for server administrators to kill or launch the TempElert process.
Now an affordable and simple solution makes remote temperature monitoring and alerting easier than ever before! Both RS232 and Ethernet models are available and when combined with our exclusive TempElert software, you have a full featured monitoring and alerting solution.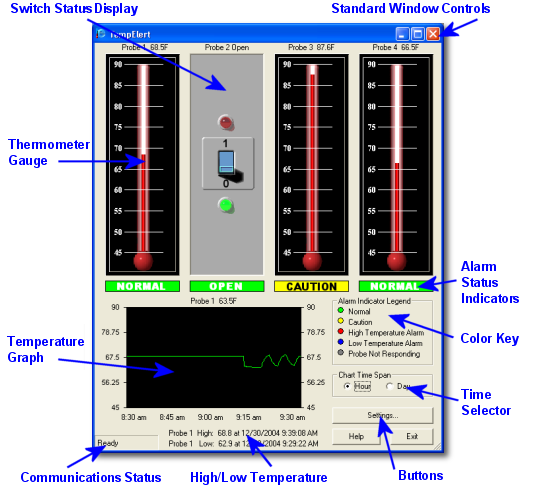 Screen Caps:

click thumbnails for screen capture samples and descriptions
TempElert also comes with PowerBug! - a utility to shut down PC's or Servers in an overtemperature condition!
This program can save your entire server room containing thousands of dollars of PC equipment!
---
You can also use TempElert to send alarms on power failure:
The small (2.25" x 1.5" x 1.25") Power Fail Detector connects to a wall outlet and the Sensatronics temperature monitor.
A push button arms the detector. Arming lights the green LED indicating power is good and sets the output for the monitor to closed. When the AC Power fails the green LED goes dark and the output changes to open. Either the Tempelert or Tempelert Spectrum software, once properly configured, will see the open condition as an AC power failure and issue e-mail alerts to concerned parties.
Tempelert and Tempelert Spectrum can also initiate an autodialer (with voice dialer option) to notify concerned parties by telephone.
The detector will remain in the open/alarmed state until the push button is pressed.
---
TempElert Multichannel also works with the
TempElert can now make a telephone call and delivery of pre-recorded voice messages to any regular telephone, cell phone, or voice pager. Support for multiple recipient numbers and remote cancel features are included. This device offers an improved level of alerting by using the telephone to succeed where emails and pager text messages may not.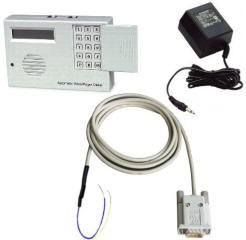 Voice Dialer Add-On Package - calls you anywhere via telephone or pager

The TempElert Automatic Voice Dialer features busy-line and no-answer detection to ensure prompt transmission of up to 2 prerecorded messages delivered sequentially to as many as 4 standard telephones, cellular phones, voice and/or numeric pagers. Messages to both local and long-distance calls can be transmitted. When activated, the dialer instantly begins calling the numbers in sequence, delivering each message 1 to 3 times in a row, in accordance with the pre-selected number of dialing attempts. The TempElert Automatic Voice Dialer is programmable, offering customization to fulfill virtually any residential or business alerting requirement. Plain-English prompts on the LCD screen walk the user through the process in a timely manner.

Features:
Versatile, Full-featured, Easy to Program
LCD Display and programming keypad
Keypad door hides keys from curious fingers
Standard RJ-11 Telephone Jack with loop through
FLASH RAM for storing recorded voice messages and programming retains even when power goes out
2-way Listen in Verification - you can hear what's going on in the room being monitored
Works with TempElert via the serial port of your PC
12 volt DC operation, AC to DC wall transformer included
Provides reliable emergency notification 24 hours a day
Programming options abound, allowing the user to:
Store up to 4 telephone, cell phone, or voice pager numbers.
Choose 1- 9 calling efforts for the numbers dialed.
Select 1-3 message repeats.
Record a variable combination (maximum: 3) of instructional outgoing messages (total elapsed time: 51 seconds).
Further voice alerts can be canceled by the end user via touch tone keypad during an alert telephone call
Program up to 2 separate input channels with individually enable/disable, entry/exit delay and activation options (Normally Open (N.O.), Normally Closed (N.C.) (dry contact or voltage activation) including momentary and continuous activation for each). Further individualize each channel by selecting the delay times, telephone/pager numbers to be dialed and the specific outgoing messages to be played.