TempElert SPECTRUM
NEW! TempElert Spectrum - our flagship product - multiple probes and multiple locations, network based, designed for mission critical monitoring
This product is the result of our years of experiences and thousands of installations of TempElert Standard edition. We took the most requested features, combined it with the ability to monitor multiple devices and probes, added false alarm protection along with advanced messaging and logging features, and created what we believe to be the most flexible, robust, and powerful Windows based environmental monitoring application available today.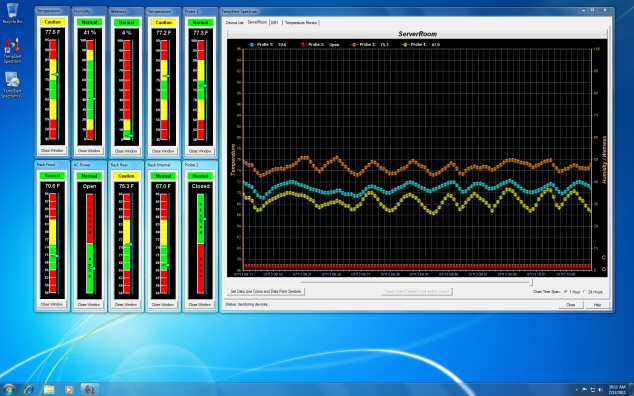 Above: TempElert Spectrum running on Windows 7 64 bit, showing graphs, multiple devices, and probe status
Advanced Features:
Monitor dozens to hundreds of probes of mixed types simultaneously over dozens to hundreds of network locations, limited only by network speed and system resources
Support for all network enabled devices we sell, including the EM1 environmental monitor and low temperature/high temperature industrial probes
Modern style tab enabled interface with "at-a-glance" annunciator displays that you can arrange any way you wish, limited only by screen real estate
Each tab position supports displaying the full status of each device, tabs will automatically be named to the device name and can scroll as devices fill the available slots
An all-in-one tabular column display showing all devices, all probes, with automatic color conditions of your choosing shows a "green across the board" status at a glance
Fully configurable probe status annunciator windows modeled after industrial process control gauges, including color, range, style. Position anywhere or leave them off
Support for 32 and 64 bit Windows operating systems, including Windows 7 and Server 2008
Powerful graphing features built in, with the ability to zoom, scroll up to 30 days in the past, and set the view window time range
Fully customizable display features, including colors, styles, markers, ranges, and alerting methods
Fully customizable messaging for email, cell phones, pagers and other mobile devices, including template based messaging with replaceable tag parameters
Separate messaging for caution and full alarm gives staff time to react before shutdown procedures are initiated
Ability to choose a wide variety of sounds for alarm conditions. Each device can have a different sound if desired. Sounds can also be voice, such as "A/C Failure in server room two". Full support for sounds provided externally from recorders or sound editors as .WAV files
Powerful logging features, allows for daily logging with automatic filename generation. All data for each enabled probe is logged and archived indefinitely, categorized by date. Data logs are stored in CSV format suitable for import to spreadsheets or report generation programs. Program configuration data changes (program launch date/time, changes to device configuration, etc.) are stored in a separate log
Built in fail-safes for network/power/device outages for false alarm prevention, including settable escalation levels to prevent false alarms on brief transient conditions
Remote device heartbeat monitoring - alerts you if a device fails or is unreachable via the network
Ability to switch off unused probes from monitoring and display
External program launch on alarm condition - allows for external controls or signaling
Includes our "PowerBug" program to allow for automatic shutdown of computers on the network in over-temperature conditions
Support for multiple monitor desktop displays - annunciator probe status windows can be on one display while the graphing/tabular at a glance display can be on another
Self management features built in to ensure "always on" operation
Option to run automatically at startup, fullscreen or run in the background
No writing to the registry - all program modules and settings are contained in one folder, ensuring that our program cannot possibly interfere with registry settings in your mission critical server or workstation
Single licenses or site licenses available
Screencaps - click the thumbnails to enlarge:
---
Network Operation of TempElert Spectrum: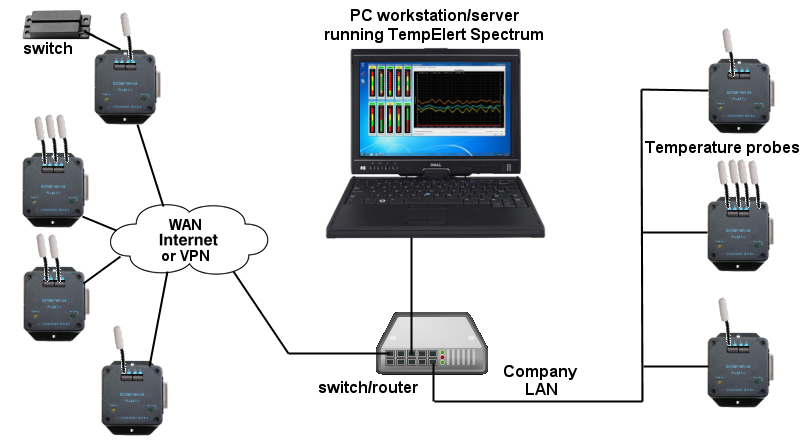 Above: Typical network application mixing probes, switches, and devices over Internet/WAN and Local Area Network
To purchase TempElert Spectrum, see our purchase page
TempElert Spectrum can handle dozens to hundreds of probes and dozens to hundreds of locations, limited only by your network and system resources.
It is the most feature rich and configurable monitoring program we offer and is designed to be easy to configure and use, yet powerful in execution. It is our third generation product, tapping years of experience.
---
TempElert Spectrum can monitor devices at your business on your LAN, or far flung devices spread to facilities worldwide!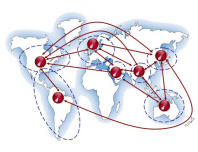 All that is needed is any type of Internet connection and the ability to reach it like a web browser would. Ports and protocols are configurable to match your network.
---
TempElert Spectrum works with a wide range of devices and probes.
These self contained devices plug directly into an Ethernet Cat5 or Cat6 connection. Configure them once, install probes, mount them to the rear of the rack or the wall, and forget about them. They will invisibly and permanently monitor and report the environmental parameter that you have configured.
The model E4 - offers 4 channels of temperature and/or switch inputs

---
The model U16 - offers 16 channels of temperature and/or switch inputs

---
The model EM1 - offers 16 channels of temperature, humidity, wetness, or switch inputs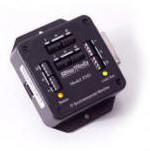 ---
Power Failure Detection
You can also use TempElert to send alarms on power failure:
The small (2.25" x 1.5" x 1.25") Power Fail Detector connects to a wall outlet and the Sensatronics temperature monitor.
A push button arms the detector. Arming lights the green LED indicating power is good and sets the output for the monitor to closed. When the AC Power fails the green LED goes dark and the output changes to open. Either the Tempelert or Tempelert Spectrum software, once properly configured, will see the open condition as an AC power failure and issue e-mail alerts to concerned parties.
Tempelert and Tempelert Spectrum can also initiate an autodialer (with voice dialer option) to notify concerned parties by telephone.
The detector will remain in the open/alarmed state until the push button is pressed.
---
To purchase TempElert Spectrum, devices, and probes, please see our purchase page