Network Enabled Sensing Devices
These simple and easy to use remote network enabled thermometers connect to ANY TCP/IP compatible Ethernet connection, be it direct, switched, on a hub or behind a firewall and it will report the temperature and status of switches via a web browser! With the addition of our exclusive TempElert Standard or SPECTRUM application, you can have temperature alarms sent to you via e-mail, alphanumeric pagers, cellphones, or PDA's (like Palm Pilots) that have wireless messaging capability! In addition, the optional Voice Dialer can make telephone calls and deliver pre-recorded voice messages to any regular telephone, cell phone, or voice pager. Support for multiple recipient numbers and remote cancel features are included. This device offers an improved level of alerting by using the telephone to succeed where emails and pager text messages may not. Included with TempElert is our exclusive PowerBug program which can automatically shutdown PC's or servers to prevent damage!

The Model E4 is the flagship monitor, and is in use in server rooms, warehouses, freezer systems, greenhouses, and many other industrial applications all over the world. Up to four temperature probes can be attached, it can also use any one of the ports to monitor switch/relay inputs.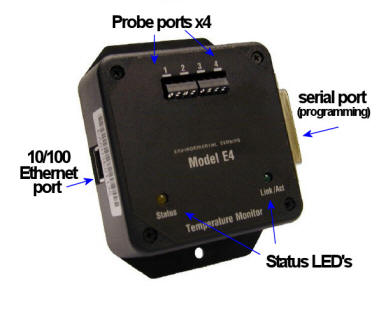 The Model U (Universal) Monitor is designed to monitor a wider range of temperatures than the E4, and is ideal for laboratory/industrial applications. The U16 with the proper probes monitors extreme temperatures down to -139°F / -95°C, or up to 572°F / 300°C. Equipped to accommodate sixteen temperature probes (and/or switch inputs), it can be installed and running in minutes.
The Model EM1 (Environmental Monitor) handles four different types of sensors:
Temperature

Humidity

Wetness

Switch/Relay input
General features of all models:
| | |
| --- | --- |
| High / Low Temperature Monitoring | Capable of being configured to monitor a wide range of temperatures in just about any application. |
| Switch Status | This is one of those handy interfaces that find all sorts of useful applications. For example, many UPS's have a relay output to indicate whether or not AC power is present. Simply running a wire between that and our units provides a mechanism for quick notification. |
| Email and Cell Phone Alerts | Through the use of our TempElert software these monitors can send email and SMS alerts to any number of users. The optional voice dialer calls with a pre-recorded message for added protection |
| XML/SNMP data | All these products allow you to retrieve temperature data easily via XML or SNMP...ideal for users wishing to write their own interface. |
| Data Warehouse Server Integration | "Pushing" data using BASE64 encoded XML over HTTP gives you a great mechanism of sending all data to a central server, especially if there is more than one location you are monitoring on multiple wide area networks and wish to maintain high security. |
| Auto Refresh | Our monitors with internal web pages have an auto refresh feature which allows for easy viewing of the data in applications where continuous manual monitoring may be necessary. |
| SNMP Polling | Monitors allow you to use current SNMP network management software saving you time and improved integration into current processes. |
| SNMP Traps to Multiple Listeners | Redundancy is important. If one listening server goes down, for example, it's nice to know your environmental monitoring will still function. |
| Wall Mountable | Built in flanges allow our base monitors to be mounted anywhere, saving you valuable IT rack space. |
| Probes Attach Via Screw Terminals | Screw terminals, while not as convenient as RJ12's for quick connect/disconnect, provide for a solid connection between the probes and the unit. |
The network enabled temperature and environmental monitors that we sell require a one-time programming to match your network settings. You'll need to get the following information from your network administrator.
An available fixed IP address, such as 192.168.0.155

The gateway address of your LAN/WAN, such as 192.168.0.1

The netmask, typically 255.255.255.0
You'll need to connect a serial port from your PC to your device to program it. Many modern PC's don't have a serial port, in which case you'll need a USB to serial converter cable, typically about $30-$50. Follow the instructions in the device manual on how to do this. Alternately, we offer a programming service to program the devices for "plug and play" operation prior to shipping them to you. See the purchase page for this option.
The devices can also be set for DHCP, but unless you have some way of resolving and tracking the address that DHCP assigns to them, you may find they get "lost" on your network. Using a fixed IP address is the most reliable way. Most networks have at least one free fixed IP address that can be assigned. Check with your network administrator.
Additionally, the port used for HTTP requests (port 80 is the default) can be changed if your network has a NAT routing or other feature that allows only one port 80 web server device on your network. Our TempElert program (Standard and Spectrum) supports whatever port number you select.
The model E4 - offers 4 channels of temperature and/or switch inputs

---
The model U16 - offers 16 channels of temperature and/or switch inputs

---
The model EM1 - offers 16 channels of temperature, humidity, wetness, and/or switch inputs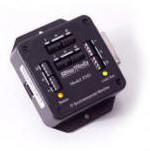 ---
WiFi adapter
We offer the Netgear WNCE2001 Universal WiFi Internet Adapter for use with these devices. See the purchase page. AC power adapter and Ethernet cable are included.


We have tested this device with TempElert and found it reliable enough for general use though for mission critical applications wired connections are the best.
---
Power Failure Detection
You can also use TempElert to send alarms on power failure:
The small (2.25" x 1.5" x 1.25") Power Fail Detector connects to a wall outlet and the Sensatronics temperature monitor.
A push button arms the detector. Arming lights the green LED indicating power is good and sets the output for the monitor to closed. When the AC Power fails the green LED goes dark and the output changes to open. Either the Tempelert or Tempelert Spectrum software, once properly configured, will see the open condition as an AC power failure and issue e-mail alerts to concerned parties.
Tempelert and Tempelert Spectrum can also initiate an autodialer (with voice dialer option) to notify concerned parties by telephone.
The detector will remain in the open/alarmed state until the push button is pressed.